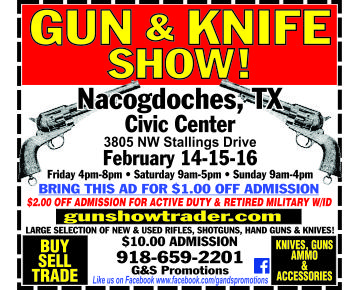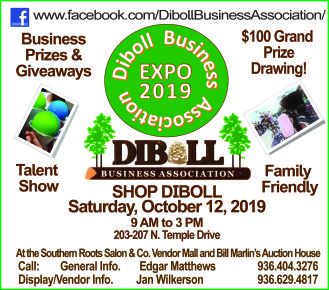 EVENTS!
•••••••• SURGE 2019 ••••••••
WORSHIP SERVICE for Youth: Fri, Sept 20, 6pm-9pm at Lufkin Civic Center - a unique worship service to ignite a fire in hearts of students to win their campus for Christ ... Free food, give-aways, games, worship & message ... Everyone welcome ... For details: 936.635-2306
MACEDONIA CEMETERY ASSOCIATION
ANNUAL HOMECOMING:
Sat, Sept 21, 10am-2pm at the cemetery in Broaddus ... Bring covered dish & lawn chairs ... If you are a member or have a family member here, please join us ... For details: Georgia 936.899-5081
••••• GOSPEL CONCERT •••••
Sunday, Sept 22 at 6pm at McKindree Baptist Church, 557 McKindree Road off Hwy 103 E of Lufkin - with "Southern Plainsmen" ... Everyone welcome ... For details: (cell) 936.465-5947
Mt. Pleasant Missionary
•••CHURCH ANNIVERSARY•••
Sun, Sept 22 at 3pm at the church on FM 2251 in Cedar Grove Community outside Lufkin N. Loop - with guests, Pastor Derrick White and the Bethesda Missionary Baptist Church ... Everyone welcome!
FALL BUTTERFLY FESTIVAL
sign-ups now being accepted for the Sat, Oct 19 event at The Butterfly House with arts-&-crafts, music, food & more in Downtown Jasper ... For application contact Jasper-Lake Sam Rayburn Area Chamber of Commerce jaspercc@jaspercoc.org or 409.384-2762
•••••••GRIGG'S REUNION•••••••
Sat, Oct 5, 10am at the old school on FM 1414 in Newton ... Bring a covered dish, a gift for the raffle, meet the new officers & expect a great time
••• AUCTION FUNDRAISER •••
Sat, Oct 5, noon-?? at Magnolia Park Pavilion, 514 Hebo (off Hwy 96) in Kirbyville ... Many items including cedar & other furniture, lowboy trailer, tools, ammo, electronics, bounce house, generator & more ... Pulled pork, boudain, BBQ links + other concessions. ALL proceeds go to Kirbyville Apostolic Church. For more details or to donate items call 409.382-8502
Camp Springs Baptist Church
•••••••••••• REVIVAL ••••••••••••
Mon-Wed, Oct 7-9 at 7pm at the church, 522 Camp Springs Road (off Hwy 944 SE of Hemphill - with Bro. Martin Ferguson - with fellowship & snacks after Friday service ... Everyone welcome
JASPER ART APPRECIATION CLASS
begins Thur, Oct 17, 2pm-4pm & continues every Thursday for 6 weeks at East Texas Art League, 364 N. Austin in Jasper ... We will explore art movements, materials, famous artists, structure of art ... Cost is free but $10. donation would be appreciated to East Texas Art League for building expenses ... For details: 409.384-2404
•••••• PHOTO CONTEST ••••••
sponsored by East Texas Photography Club at Jasper Fall Butterfly Festival ... All photos & money due by Tues, Oct 15 at 4pm at Jasper Chamber of Commerce ... For more details call Kate Beaver 409.489-3987
32nd ANNUAL KENNARD TRADES DAY
& PARADE "OLD FASHIONED HOLIDAY HOEDOWN,
A COUNTRY CHRISTMAS IN THE PINES":
Sat, Dec 14 all day in Downtown Kennard - with Lighted Parade & Tree Lighting + Fri, Dec 13 House Decoration Contest ... Raffle for Husqvarna Z248 ZTR mower $1./ticket or 6 for $5. ... Presented by Kennard VFD to rock our spirit & fill us with Holiday Joy! ... Everyone welcome ... Parade entry & booth space forms at Curry's Grocery in Kennard or call 936.655-2219 or (cell) 936.222-3784 or 936.222-7137 or 936.655-2302 or 936.545-7160 or 936.222-1671
• A DAILY PRAYER FOR YOU •
Spend a daily one minute visit with Jesus with a prayer
from the Scripture (toll free) 1.888.664-8792
or Facebook.com/YourDaily Prayer
•••• COMMUNITY Rx HELP ••••
is a non-profit helping people with NO prescription insurance get their medications for free from pharmaceutical companies ... There is no charge for our services ... If you live in or have doctor in Nacogdoches, Angelina, Shelby or San Augustine Counties, call 936.568-0055
••• CELEBRATE RECOVERY •••
meets every Tuesday at 6:30pm at Solid Rock Church, 16663, FM 2109 in ZAVALLA, every Thursday at 6pm at Trinity Baptist Church, 444 FM 83 in BROADDUS & every Friday at 7pm at First Christian Church, 1300 S. First in LUFKIN - for everyone with hurts, habits, hang-ups with drug/alcohol abuse, anger, fear, grief, marital problems, overeating, physical/sexual abuse, pornography & more ... We are a safe place for worship & reflection ... Lesson or testimony on principles & steps of recovery
OVERCOMERS IN CHRIST MEETINGS:
Mondays for women 6pm-8pm & Fridays for men 6pm-8pm at Hughes Center, 1501 Wheeler/Hwy 96 in Jasper ... Sponsored by Harvest Church. For details 409.383-8306
•••••••••••• SNIPS ••••••••••••
(Spay Neuter Initiative Pet Society) has available appointments for low-cost cat & dog spay/neuter surgeries ... Call us at 409.384-8251
THE WOMEN'S SHELTER OF EAST TEXAS
provides crisis advocacy to victims family violence. Serving Angelina, Houston, Nacogdoches, Polk, Sabine, San Augustine, Shelby & Trinity counties. Toll-Free Crisis Hotline 1-800-828-SAFE
•• IMPACT THRIFT STORE ••
is a non-profit volunteer organization to help children in East Texas when coming into foster care ... Accepting donations ... We use what we can & sell the rest to raise much-needed funds for time-of-need items ... Visit our store Mon-Fri 10-4 & Sat 10-2 at 720 E. Main in Nacogdoches 936.205-5921 or impactnac@yahoo.com