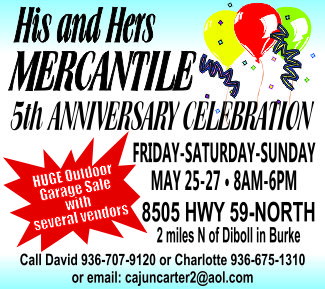 GARAGE SALES!
••BROADDUS TRADE DAYS••
Fri & Sat, Dec 11-12 ... FREE Space, Garage Sales, Crafts, Antiques. Contact Joel for space or directions (cell) 936.465-8126
FOUR SEASONS 3-FAMILY SALE: Sat, Nov 28, 8am-?? at 102 February (go outside Lufkin W. Loop on Old Union Road/FM 1271, take 1st right onto Pine Terrace, home on corner). Home décor, name-brand audult clothes, office chairs, glassware, more!
AVON SOLD
at East Texas Vendor Mall, 1604 W. Frank (beside Atkinson Candy) in Lufkin 936.635-6259
NOTICE OF PUBLIC SALE
of property to satisfy landlord's lien on HOMER MINI STORAGE, 5406 US Hwy 69 S of Lufkin ... Sat, Dec 5, 10am. Burns Auction Company, Walter Burns licensed auctioneer #17376 ... CASH ONLY Auction with required $20. clean-up deposit ... Seller reserves the right to withdraw property at any time before sale ... Units will be sold in entirety to highest bidder ... Property includes all contents of spaces of the following units: Daniel Blanton, Angela Cross, Ray George, Michael Hicks, Amber Horace, Forest Jefferson, Robin Reynolds, Norina Woodard, Mathew Tucker ... Furniture, appliances, toys, tools
KELTYS SALE: Fri & Sat, Nov 27-28, 7am-?? at 808 McMullen (off N. Raguet) in Lufkin, tools, clothes, chain saw, lots!
•••••• ESTATE AUCTION ••••••
Sat, Dec 5, 10am ... Estate of Mr. & Mrs. Joe Martin of Hemphill ... Take Hwy 83 West to Worth Street in Hemphill - watch for signs ... Mr. & Mrs. Martin being avid collectors, also retiring from Texaco - this auction will consist of a large selection of oil/gas collectibles and advertising! ... Furniture, glassware, collectibles, advertising, guns, primitives ... No buyers premium. Go to www.auctionzip.com Darrel Lawson #10310
2-FAMILY SALE: Sat, Nov 28, 7am-2pm at 203 Moss Street (off Sunset) in Lufkin. Baby-lady clothes, Xbox, more!
••••••••• NEW TO YOU •••••••••
New To You Resale Store ... A resale experience like none other ... Come see whay everyone is talking about! ... "You never know what you might find" ... 1411 Atkinson in Lufkin 936.639-6392 ... Be sure to "like" us on Facebook