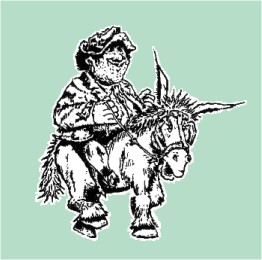 Pete's News
ALL THE NEWS THAT'S FIT TO PRINT
AND SOME THAT AIN'T


Howdy folks! This here's ol' Pete and Rosebud comin' at you again!
Ever time the weather turns off purty this time of year, my mule Rosebud starts up some kind of a project. Her and Cousin Denver. He's right in there with her. But it's all her doin'. She's the one that starts it and then she suckers Denver into doin' all the work. And he'll get out there doin' whatever it is she's talked him into and he'll just work up a storm while she stands back and watches. I don't reckon there's any need for her do nothin', though. Not as long as he's around. How's that ole sayin' go? There ain't no use in fannin' your fire as long as the wind is blowin'. Somethin' like that. And as long as ole Denver is anywhere around, Rosebud will make shore the wind is blowin'.
Now that ain't to say that Rosebud's lazy. No, I wouldn't go that far. If they's somethin' that's got to be done, she'll do it. But I'll say this: If they's any sweatin' goin' on, chances are that it ain't gonna be her that's doin' it. In fact, I've accused her of startin' them projects to get outta doin' somethin' she didn't want to do. Like plowin' the garden. She hates that. Face it, plowin' is hard work if you're a mule. You get hitched to a plow and you have to pull hard enough to tear up the dirt. I ain't never done it, but I'm purty shore it's hard to do. I reckon I ain't stout enough to do it if I wanted to. Not that I do. My part—walkin' along behind the plow, holdin' it up, guidin' it and makin' it do what it's s'posed to do—is hard enough. I don't like plowin' either, but not as bad as Rosebud does. She despises it.
The work is hard, but I think there's another reason she hates it so bad. I think it's cause she can't be in charge. When she's hooked to a plow, she has to do what I tell her. That's how it works. "Get up!" I'll holler. That's so she'll start goin', start pullin' the plow. But it's how she does it. At first she won't do nothin' atall. Then she'll start leanin' forwards and she'll lean and lean some more til it looks like she's gonna fall right on her face. Then, just before she starts to fall, she takes that first step. Then, when we get to the end of the row, I'll say "Whoa" and she'll stop. Only it don't take her near as log to "whoa" as it does to "get up." You have to holler the "get up" part and half the time she'll still pertend she didn't hear you. But you can just kinda whisper the "whoa" part and you better be ready to stop right then or you're gonna run over your plow. Plows don't drift to a stop. You stop pullin' on 'em and they stop dead right where the are. And when she hears that "whoa" she's gonna stop. She don't have no trouble atall hearin' that.
I had a little talk with her about them projects of her's one time. I told her she wasn't foolin' me none. I got eyes. I can see. I didn't fall off the tater truck last week. The purtier the weather gets in the spring, the closer it gets to when you can start gettin' out and workin', the more likely it is that her and Denver is gonna start up one of them projects of their's. When it's cold and wet and too nasty to be outside, you don't never hear nothin' about no project. Not word one. But as soon as it clears off and starts warmin' up, you're gonna have to hunt for them two 'cause they're gonna be off somewhere inventin' somethin'. It never fails. She'll think somethin' up to make and he'll be out there doin' the work. Like I say, that mule plays ole Denver like a git-tar. Well, I didn't say it just like that, but she does.
On the other hand, when they've got somethin' started, that's when Rosebud is the happiest. That's true even when it's somethin' she's havin' to help do the work on. You'd think that work would be work, that there wouldn't be no difference in it, but that ain't so. She don't mind doin' the kind of work where it's her and him makin' a space ship or whatever it is they're puttin' together this time. I don't know what the difference is. I ain't like that. It don't matter what kind of work it is, I ain't real fond of it. Oh, I'll do it. But just 'cause I'm doin' it don't mean I like it. But it's different with Rosebud. There's some kinds of work she seems to really get a kick out of.
I've thought about that some. I've wondered about it. The only thing I can think of is that it's got somethin' to do with her bein' in charge. All them other things we have to do, she ain't in charge. Sometimes I am, like when we're plowin', but most of the time it's somethin' we've just got to do. We both know it and we know how to do it, whatever it is, so we just get out there and do. I don't particular like that either, but I don't just hate it with a passion like it seems like she does. But when it's somethin' to do with one of them inventions her and Denver is always makin', it's different. And the thing that's different is that she is always the one that's tellin' the other one what has to be done.
Well, I ain't got no more time to talk about this today. I've got to get out there and hunt the two of 'em up and see what they're up to this time. If I don't keep my eye on 'em, they're liable to blow theirselves up or somethin'. There was this one time. . . Oh, but that's a whole 'nother story. I'll have to tell you that'un some other time.
You can contact Pete and Rosebud by email at
bstover43@yahoo.com