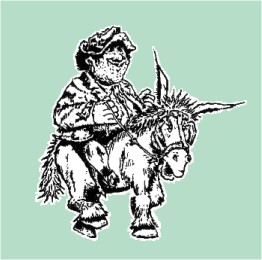 Pete's News
ALL THE NEWS THAT'S FIT TO PRINT
AND SOME THAT AIN'T


Howdy folks! This here's ole Pete and Rosebud a comin' at you again!
I got in a argument down at Silas's store this week. There's a bunch of ol' boys sets around down there ever day talkin' politics and stuff and, next thing you know, there's a argument starts. There's always a smart-alec in any crowd, y'know, and I reckon this time it was me. Silas usually keeps a ear out for trouble. If he hears voices risin' he step in put a stop to it. When he says somethin', that settles it. He won't put up with no fussin' and carryin' on in his place. But this time I reckon he wasn't payin' no attention and it sorta got outta hand. And I'll admit I might of been a little smart-alecky about it, but there wasn't a bit of it my fault.
What gets me about it is that it wasn't even about politics. Well, not about party politics. You'd think it prob'ly would be, what with the primary 'lection bein' right on top of us like this, but it wasn't. Well, I guess in a way it was. But in another way it wasn't. Maybe I better try and 'splain it out.
What it come up over, somebody said they was readin' in the paper where the gov'ment handed this here scientist feller a sack fulla money to figger out some silly somethin' or other. I don't even know what it was now. Whatever it was, it was rank foolishness, somethin' to waste another gazillion dollars on. And everbody down there was in agreeance that the gov'ment ort not to be wastin' the taxpayer's money. That is, everbody but me. Like I told you, it was my turn to be the smart-aleck in the crowd.
Up to a point I was in agreeance too, but I told 'em there's lots worse things than the gov'ment wastin' a little tax money here and there. Yeah, I spoke up and told 'em that. Thinkin' back on it, I'd prob'ly have done well to just keep my mouth shut, but before you go jumpin' down my throat like they did, I want you to know that I had good reasons for sayin' what I said. Good reasons.
First of all, wastin' money is what the goverment is s'posed to do. That's what its for. I mean, if it ain't wastin' money, what's it gonna be doin'? Prob'ly somethin' worser. Like spyin' on ever friendly for'n country in the whole dad-blame world and gettin' caught at it. You know, gettin' caught listenin' in while the only people in the world that even halfway likes us are talkin' on the telephone, keepin' tabs on who they're talkin' to and a bunch of stuff like that. Stuff like that could be downright dangerous. So, what're you gonna do? I mean, for the sake of world peace? What you do is you give them gov'ment dudes a little money to spread around here and there. Then they'll be too busy wastin' money to be bothered with stirrin' up trouble with our friends and allies all over the world.
And, secont of all, I wish somebody would please 'splain out to me where all this "gov'ment wastin' my hard earned tax money" stuff is comin' from. There ain't never been nobody up here in Gump Holler ever paid anything close to that kind of taxes. How many times have you ever heard about the gov'ment wastin' two hunnert dollars? A thousand? They don't mess with little dabs like that. When it comes to gov'ment waste, it's a hunnert-million here, a billion there, a gazillion somewheres else. And, like I said, there ain't nobody up here payin' even as much as a million dollars in taxes. Shoot, the gov'ment blows more on a roll of toilet paper than most of us up here pay.
Me, I don't pay no taxes atall. Well, I pay a little sales tax and proppity tax on my farm, but not none of them incomin' taxes. So they ain't wastin' none of my money. And I'm bettin' that most of them fellers settin' around down there at the store ain't payin' none either. You've got to make money before they charge you tax on it. So that's another reason why I ain't against 'em wastin' a billion here and there. I mean, not as long as it don't get too awful bad. Sometimes they get a little outta hand and you have to sorta rein 'em in a little, but spendin' a few hunnert million dollars to study how red worms wiggle or to rebuild a few of them mosques that got flooded in Egypt ain't all that bad. I mean, not as long as it ain't your money or my money we're talkin' about.
But, as you might know, there was some of 'em that didn't see it that way. But you know what? Now that I've had time to reflect on it, I don't think it had anything to do me bein' right or wrong, with whether the gov'ment ort to be wastin' money or not. Them ol' boys down there just don't have enough to keep 'em busy so when somebody says somethin', they just jump up and start hollerin' without even thinkin' about it. That's why they got on my case. It wasn't that I was wrong. That didn't have nothin' to do with it. They just wasn't thinkin'.
Besides, if there was anything wrong with it, the gov'ment wouldn't be wastin' money, now would it? 'Course not. Anybody ort to be able to figger that out.
You can contact Pete and Rosebud by email at
BStover@swbell.net